Earl Silas Tupper (1907-1983)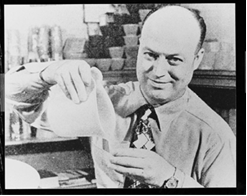 Earl Silas Tupper was born in 1907 in Berlin, New Hampshire (USA). His father, Earnest Leslie Tupper, managed the family farm, while his mother, Lulu Clark Tupper, ran a boarding home to raise some extra income.
It is from his father, who frequently came up with labour-saving devices for the farm, that Earl Tupper is said to have developed a love for invention and developing new things. By the age of ten, Earl learned that selling the family's farm produce was more lucrative if he went door-to-door.
After graduating from high school, Earl continued to work in the family business for a few years, as his parents now owned a nursery in Shirley, Massachusetts. Earl's early employment also included working as a post-office employee and railway employee. This, however, did not deter him from wanting to make his first million by the age of 30. In 1928, Earl took a course so he could start his own business tending trees and landscaping. His successful venture, the Tupper Tree Doctors Company, gave him the opportunity to create a wide variety of inventions, which included a women's corset, a special hairpin dubbed Sure-stay and a portable tie rack. In 1931, Earl married Marie Whitcomb, who supported him in everything he did and shared his ambition to successfully market his inventions. In part due to the Great Depression, Tupper Tree Doctors was forced into bankruptcy in 1936.
In the same year, Earl Tupper met Bernard Doyle, the inventor of Viscoloid plastic. Doyle Works was the plastics manufacturing division of DuPont, located in Leominster, Massachusetts, where the Viscoloid products were produced. Tupper went to work for Doyle Works in 1937, but stayed there only one year. In 1938, at the age of 31, he took the experience and expertise he had gained in plastics design and manufacturing at DuPont and set up a business of his own – The Earl S. Tupper Company. He purchased a few machines from DuPont and started designing and developing plastic industrial products for the consumer market. This led to the opening of his first Tupper Plastics factory in Farnumsville, Massachusetts in 1942. Tupper dreamed of the Tupperization of every kitchen in America.
Despite the difficulty of acquiring the raw materials necessary for plastics production during the Second World War, Tupper obtained some major government contracts through DuPont. By producing, for instance, parts for gas masks and Navy signal lamps, Tupper Plastics managed to keep its head above the water.
After the war, Tupper turned his undivided attention to developing plastics, in particular kitchen utensils. Sales were tough, even in his shop on Fifth Avenue, New York. Many of his earliest designs were offered as premiums with other products, such as a plastic cigarette case with the purchase of a packet of cigarettes or an unbreakable tumbler with a toothbrush. Nevertheless, getting consumers to notice and purchase plastic products remained difficult. Tupper's invention and development of the Tupper Seal, an airtight and watertight lid, initially also failed to contribute to increased sales. It became clear that the new product required explanation and demonstration for consumers to appreciate its benefits.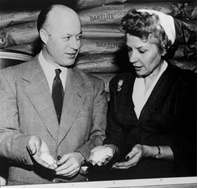 In the late 1940s, two people were moving enough Tupperware products through home sales to attract Tupper's attention. As distributors of household products, Thomas Damigella (in Massachusetts) and Brownie Wise (in Florida) were offering Tupperware as part of their product line. The three met in 1951 and developed a new distribution plan for Tupperware modelled on the home party plan pioneered by Stanley Home Products. Expanded and refined by Brownie Wise, the existing concept became the Tupperware Home Party Plan, an exclusive selling tool for Tupperware through home demonstration. Damigella and his wife became the first distributors of Tupperware. Wise was named Vice President of Tupperware Home Parties in 1951, a position she held until early 1958 when she was fired following a difference of opinion.
The same year, Tupper sold his company to the Rexall Drug Company for 16 million dollars, divorced his wife, gave up his U.S. citizenship and bought himself an island in Central America. Earl Tupper died in Costa Rica at the age of 76 after suffering a heart attack.