History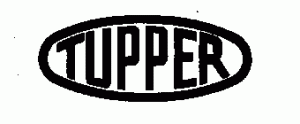 In 1938, Earl Tupper started his first business, The Earl S. Tupper Company, after which he opened his first factory in 1942 in Farnumsville, Massachusetts.

Tupper had discovered that the waste product of the oil refining process could be turned into a flexible, firm, colourful and odour-free plastic product. After developing a method to purify the black polyethylene slag, he managed to transform it into a user-friendly and functional product for day-to-day household use. Because Tupper believed that too many worthless products were being sold as plastic, he called it Poly-T. The products were made of see-through, colourless plastic. Later, in 1947, they also became available in pastel colours. His first product was the clock-shaped Bell Tumbler, which was advertised with the slogan: 'Poly-T: Material of the Future'.
Tupperware commercial, 1961 © Prelinger Archives

Earl Tupper also invented the Tupper Seal, an airtight and watertight lid, which was modelled on the design of a paint lid. The lid would become famous for the 'Tupperware Burp' – a characteristic sound created when the lid is being closed. In 1947, Tupper patented the Tupper Seal. Together with the rise of the refrigerator, Tupper's invention would herald a new development in American households in the 1950s. Food could now be stored longer, kept fresh longer in plastic containers and dishes, and stacked neatly.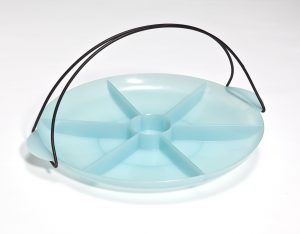 The difficulty of acquiring raw materials during the Second World War forced Tupper to mainly manufacture products for the war industry. The few products he designed in those years were marketed as Welcome Ware.

After the Second World War, Tupper was able to fully focus on Tupperware, which was launched in 1945. With Tupper at the helm of designing the range, all products were simple, sober, lightweight, durable, functional and fully geared to mass production. He had his inventions tested by his family and in test kitchens that were part of his laboratory in Woonsocket. He was working closely with Elsie Mortland, a Tupperware Home Parties employee. As the most experienced hostess, Elsie had expert knowledge of the needs of American housewives and served as an important link between the consumer and the company. Accordingly, she had a decisive voice in the design of new products.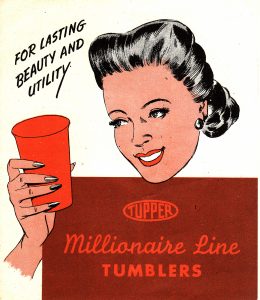 Tupper named his first household products the Millionaire Line, because he was convinced that each product would earn him a million dollars.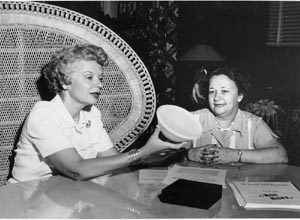 In 1947 Elizabeth Gordon, editor of House Beautiful magazine, wrote an article on Tupperware entitled 'Fine Art for 39 Cents', praising the design of the Wonder Bowl as a finely crafted sculpture. Tupper even won several design awards that year, including the Design for Modern Living Award. A year later, he won the Modern Plastics Housewares Award with his Millionaire Line. In 1947, the Tupper Corporation donated some of its products to the Museum of Modern Art in New York. In the Netherlands, the Museum Boijmans van Beuningen in Rotterdam added the first Tupperware products to its collection in 1985.

The user-friendliness of Tupperware products was at least equally important as their appealing look. The fact that dishes and containers could easily be stacked allowed for tidy and efficient refrigerators. Thanks to the airtight lid, food could be stored and kept fresh longer. In fact, Tupperware met every household need. As a result, Tupperware received a quality certification in 1957 of Good Housekeeping and Parents magazines.
After a number of years other materials were used, such as polystyrene, a glass-like material, and later polypropylene, which was easy to dye and stronger and retained its form better. The Tupperware range was expanded to include products for general household use, including storage containers, baby care products, personal care products, a fly swatter and even a vase, which were introduced on the market as Tuppercraft. The only thing Tupperware did not cater to were pets, as Earl Tupper deemed his products suitable for every purpose imaginable, with the exception of serving as dog or cat food containers.
Source of images of logo Tupperware: United States Patent and Trademark Office (www.uspto.gov)